BOOK
---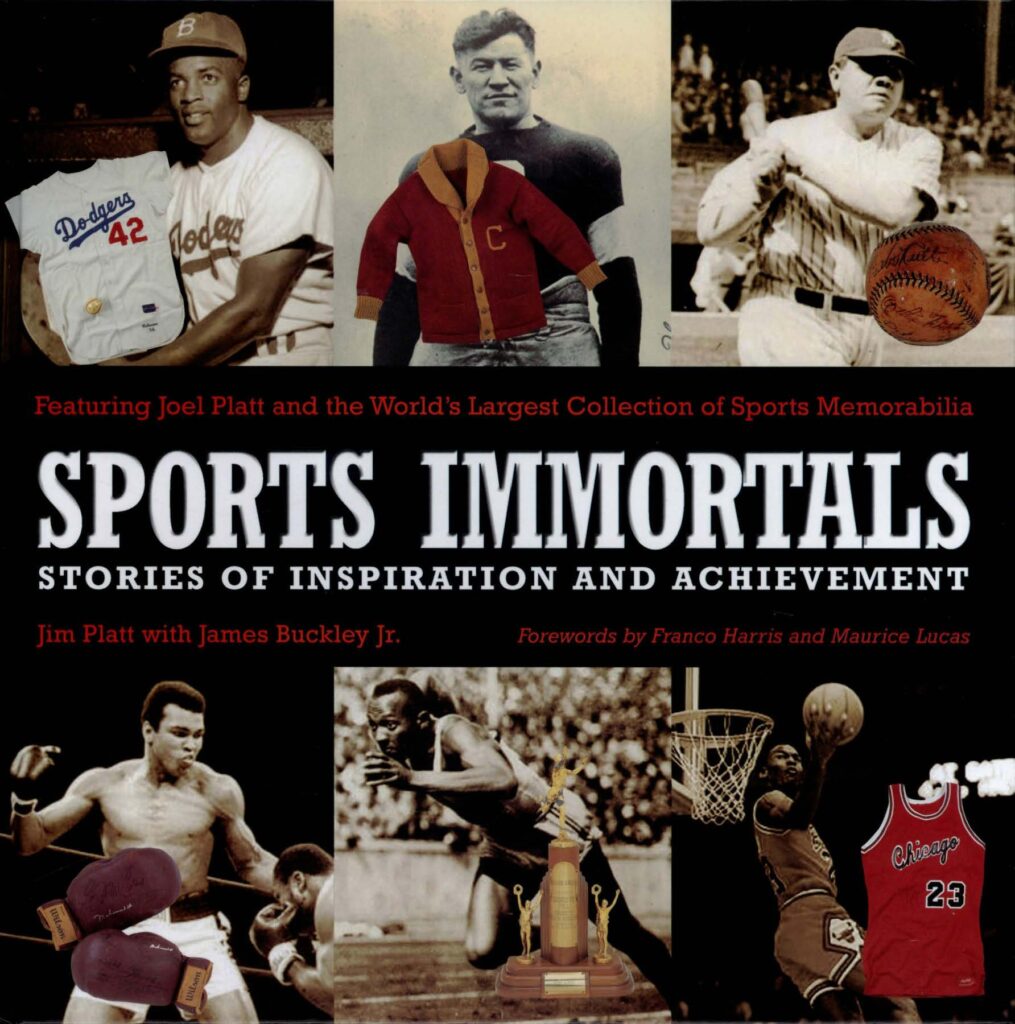 Sports heroes live in our collective memory as flickering images, as hazily remembered ghosts. Through its breathtaking collection of imagery and stories, Sports Immortals provides a new way to be inspired by the greatest athletes of all time.
Called by the Smithsonian Institute "absolutely the greatest collection of all sports," Joel Platt's life work honors a century of athletic achievement with a gathering of more than a million mementos. It's more than just uniforms, gear, autographs, and photos, however. Sports Immortals Exists to ensure that the memories created by the world's greatest athletes continue to inspire us for generations to come.
The stories of more than 100 inspirational athletes are featured in this book. Follow the path of sports history as you move through each chapter, from Honus Wagner to Roberto Clemente… from George Mikan to Shaquille O'Neal… from Jack Johnson to Muhammad Ali… from Jim Thorpe to Walter Payton. Read about the bravery of Jesse Owens, the sparkling achievements of Wayne Gretzky, the audacity of Dale Earnhardt, the world-spinning popularity of Péle, and much more. You'll experience these wonderful stories visually, as each is illustrated with stunning, close-up photos of hundreds of rare, valuable, one-of-a-kind artifacts from the Sports Immortals collection.
Reading Sports Immortals will leave you breathless, stunned, and inspired.
"Sports Immortals represents the ultimate in sports achievement. The story pays tribute to the world's greatest athletes and chronicles Joel Platt's lifetime effort to preserve sports history."

Jack Kemp
Former Congressman and Pro Quarterback
"We celebrate athletes who overcame obstacles to reach their goals. Joel Platt, by force if his indomitable will, brought his body back from a serious injury as a youngster to curate the world's greatest collection of sports memorabilia."

Rabbi Harold Kushner
Author of When Bad Things Happen to Good People
"The finest sports collection in the world… bar none."

Joshua Evans
Founder, Lelands Sports Auctions
Read Our Sports Immortals: Stories of Inspiration and Achievement eBook
---